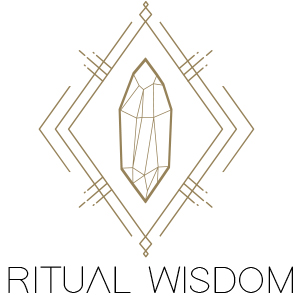 Morning rituals are a powerful, and relatively simple, way to make a big impact on your overall health and state of being.  By shifting your diet to include the power house nutrients, you'll feel noticeable shifts in physical wellbeing, including sustained focus and energy
.
So you've heard the hype about superfoods and learned about the incredible benefits but you're not sure how to incorporate them into your diet? Look no further, here's four ways to spice up your daily ritual with an antioxidant punch.
Power Punch Smoothie
Got a long day or mega workout ahead? This is the way to handle it. This smoothie keeps my energy high and appetite curbed without feeling heavy of full.
Blend Together:
One Frozen Banana
 1-2 cups of fresh spinach as desired (personally I just like to stuff as much spinach as I can to the top of the blender. I also feel like fresh spinach is so much better then frozen and essentially tasteless)
1-2 cups Almond or Cashew Milk for desired consistency
2 tablespoons Hemp Seeds
 1 teaspoon Maca
 1 teaspoon Lucuma
 1 teaspoon Almond Butter
White Mulberries (optional)
 1 scoop Go Bean Powder (optional)
Directions:
 In a blender, combine all ingredients in order. Blend until smooth and creamy.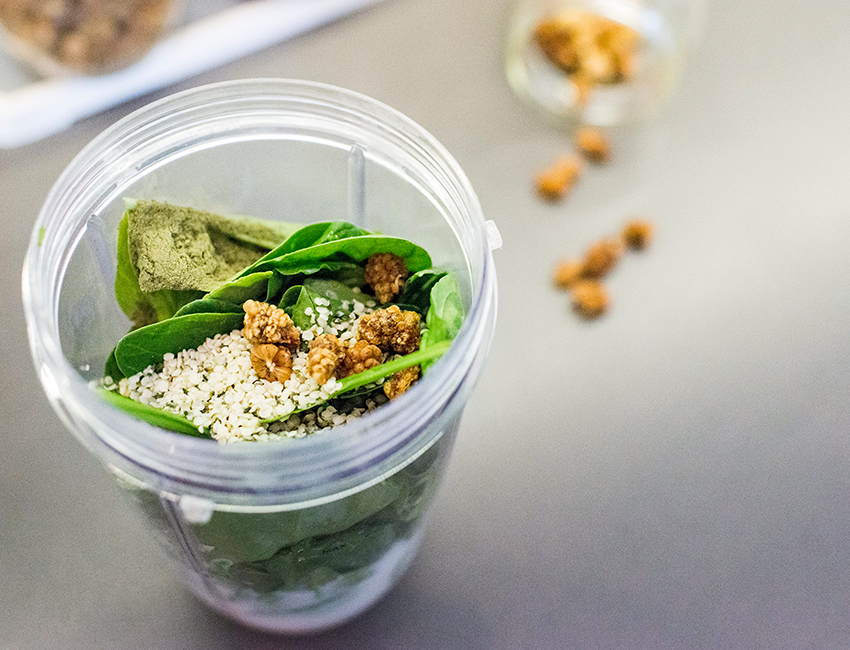 Beaming Banana Smoothie
Blend Together:
Handful of ice
1 cup cashew milk
1 ripe banana
¼ tsp. cinnamon
¼ tsp. turmeric
1 tsp. maca powder
2 scoops vanilla collagen protein (or vanilla protein powder of choice)
Directions: 
In a blender, combine all ingredients in order. Blend until smooth and creamy.
Smoothie Benefits:
This smoothie will make you bean from head to toe! For one cashew milk is packed with unsaturated fatty acids and monounsaturated fats which are great for heart health and lowering cholesterol. You want to either make plant based milk at home or choose a brand that contains no gums. This includes xanthan gum, guar gum and carrageen. These types of emulsifiers or thickeners make plant milk smooth and creamy, however can wreak havoc on the gastrointestinal track as well as create a host of other problems. The only brand I've found to have clean ingredients and taste great is Forager Project which can be found at most health food stores.
Adding a banana to a morning smoothie, especially after a high intensity workout like a hot yoga class or a run, can aid in replenishing lost potassium, magnesium and electrolytes. Restoring these vital nutrients will help with muscle contractions and neural activity. Just don't eat too many bananas! Even though they're a fruit and considered "healthy" they're still a carbohydrate and will impact your blood sugar greatly.
Cinnamon, turmeric and maca, oh my! These are great superfoods to add to any breakfast ritual. They not only add a powerful flavor punch but impact your body systemically. When using cinnamon, make sure to invest in Ceylon cinnamon or "real" cinnamon. This is the best cinnamon for the body which makes it a powerful tool for stabilizing blood sugar, gaining antioxidants, fighting inflammation and bacteria. It also makes everything taste better!
Similarly to cinnamon, turmeric is a god among anti-inflammatory superfoods. Its bright yellow color adds a beautiful tone to everything it touches while lowering inflammation, improving gut health and skin quality.
Maca adds an earthy umami flavor to this smoothie which is both warm and grounding. Adding a bit of this root in powder form to a smoothie offers support with hormonal balance, can help increase libido, and can help with stress and fatigue. Besides the increase in libido, getting this support in the morning can help carry you through the day! Be sure to buy a high quality maca- invest! Maca is susceptible to mold during the drying/manufacturing process and those with mold sensitivity can feel discomfort, which defeats the purpose of using maca, so read labels and don't look for a bargain on this ingredient!
And last but certainly not least protein! Feel free to play around with various proteins, either plant or animal. The vanilla flavor certainly compliments the other superfoods without overpowering them and awakens the body to feel refreshed and ready for the day. Adding protein also helps you stay full longer and aids in fighting sugar cravings and naughty snacking throughout the day! I like using Bulletproof Vanilla Collagen Protein, because I'm getting a great source of protein in addition to collagen, which aids in smoother skin, joint and gut health, better sleep and faster recovery.
You'll be beaming after this smoothie!
Goji Berry Tonic
2 cups hot filtered water
7 dried organic goji berries
Directions:
In a tea kettle boil at least 2 cups of water. When water has boiled, pour 1-2 cups of water into a glass mug with 7 dried goji berries. Allow to steep for 5 minutes by covering mug with a plate. After 5 minutes enjoy your goji berry tonic along with the soft berries.
Benefits:
Goji berries are a lot more than a hot superfood! They've been used in traditional Chinese medicine for more than 2,000 years for balancing and strengthening the body. They have a similar shape to a raisin, however have a more chewy texture and earthy flavor. Typically they were used as a medicinal tonic. They have high levels of amino acids and anti-aging elements. These nutrient packed little berries nourish the liver and kidneys, improve eyesight, lung health and joint function.
Combining this tea with grounding and processing rituals can be very helpful as the goji tonic or tea, aids in supporting vital organs and soothing the body from the inside out. It's a beneficial drink to add to your morning meditation when you're feeling overworked, over stressed or fatigued. Because of intensity of the goji berry and the plethora of superpowers it contains, be sure not to overdo it with these little berries. Try the tea for a couple weeks at a time when your needing extra support, and take breaks in between.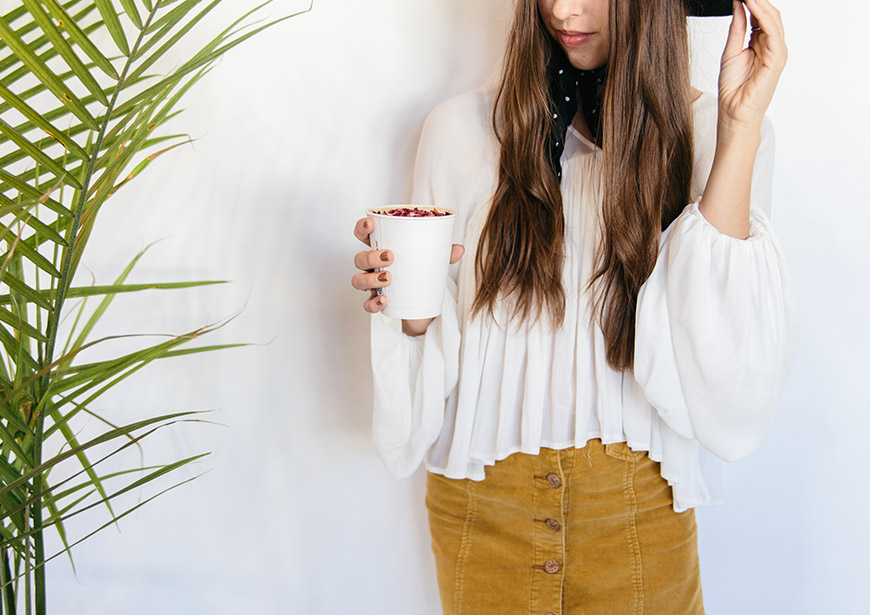 Melo-Gelo Bites
1 cup brewed lavender tea
1 cup brewed chamomile tea
3 cups organic grape juice
3 tbs. grass-fed gelatin
Directions:
In a large glass mixing bowl, "soften" or "bloom" the gelatin by combining 1 cup grape juice and 3 tbs. gelatin. Whisk until the mixture thickens and allow to sit for at least 5 minutes. While the gelatin is softening, brew tea. Whisk the hot tea into the gelatin mixture until the mixture is nicely dissolved and smooth. Add remaining 2 cups of juice and mix well.
Pour gelatin mixture into a greased pan or mold and chill until firm (at least 2 hours). Cut into bit size squares for an easy-to-grab snack or treat.
Benefits:
These sweet treats are a great little dessert or snack that can help you feel satisfied and full, and yet are light enough to have before the bending and twisting of an intense asana practice. The aroma alone is worth making these, as the lavender and chamomile tea produce a soothing fragrance that if inhaled, has been shown in scientific studies to slow down the nervous system, helping to reduce anxiety, insomnia, stress and depression.
Besides the beautiful perfume of both teas, they additionally contain sleep aid properties and are helpful for digestive issue relief.
Combing the tea and grape juice is a beautiful marriage of flavors and also allows for a tasty treat that has no added sugars. While the grape juice does contain natural sugars, eaten in small amounts can be beneficial due to the grape's other terrific qualities, like being loaded with polyphenol flavonoids. These antioxidants fight harmful free radicals that can damage cells in your body and cause disease.
And what makes this Melo-Gelo giggly, is of course gelatin! Make sure you always use gelatin from pasture-raised cows as the overall health of an animal impacts the quality of the collagen and gelatin it stores inside its body. Healthy animals have more omega-3s and less omega-6s and serve as a powerful supplement in restoring vital amino acids in our diets. Adding gelatin to a diet is essential to supporting the body's ability to repair and maintain health- think gorgeous skin, hair, joints and bones…gut too!
SaveSave